Make/explain an inference
Aligns with CCSSR1--read closely, then make logical inferences with evidence.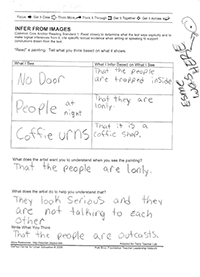 Guide to making inferences based on a painting.
Graphic Organizers to Develop Inferential Thinking
Each of these graphic organizers requires students to cite evidence in the graphic organizer to support Common Core Anchor Reading Standard 1:
Read closely to determine what the text says explicitly and to make logical inferences from it;
cite specific textual evidence when writing or speaking to support conclusions drawn from the text.
Fiction-Based Inference Guides
Interpret Feelings of Characters in a Story
Little Pink Riding Hood INFERENCE DEVELOPER
I Can Identify and Infer Character Traits
I Can Infer Character Traits and Support with Evidence
I Can Infer the Main Idea/THEME of a Story
Explain Character Traits; Infer with Evidence (all grades--adaptable)
Explain Feelings (and clarify they're NOT traits): Explain Reasons (all grades--adaptable)
Their Words: Infer What People Might Feel, Say, Do
I Can Identify and Infer Motive
I Can Infer Motive and Effects for an Action
I Can Predict with Evidence from a Story
I Can Infer Predictions Based on the Analysis of a Motive
I Can Identify and Infer Relationships
I Can Identify and Infer about a Story or Event
Fiction Readings with Inferential Questions
Nonfiction-Based Inference Guides
I Can Infer the Author's Purpose
Cause and Effect Inference Maker
I Can Analyze and Infer Causes and Effects
I Can Infer the Meaning of a Word in Context
I Can Infer the Main Idea When I Read primary
I Can Infer the Main Idea When I Read
I Can Infer the Main Idea of a Passage
Paragraph Reader: I Can Infer the Main Idea
Nonfiction Readings with Inferential Questions
Teacher's Toolkit to Guide Students to Infer the Main Idea of NONFICTION